June 03, 2019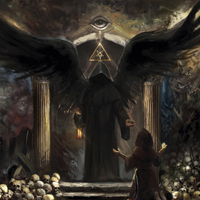 Slowly rolling waves of mysterious intrigue, the symphonic outlines of the Adornation intro fascinates with their harsh significance, weaving the lace of the mysterious haze of the Abyssic - High The Memory album, long and diligently developing the structure of the main motive.
The title track High the Memory stretched out in time, exceeding in length many EPs and mini-albums. But it is worth listening to - so fascinating sacrament sound, enchanting with soft insight, soothing any dismay. Keyboards solo recreate the captivating laces of symphonic charm.
The solemn significance of the Transition Consent cong is braided with weighty threads of importance, weaving around vocal reflections a weaving weave that fascinates with unhurried protractedness and enthralls with pensive pacification.
As extensive as the title track, the Where My Pain Lies song brings to the album some trends in power and drive, but keeps the tempo within the framework of viscous unhurriedness.
Complementing the brooding symphony with the inspiration of sublime keyboard passages the Dreams Become Flesh track completes the album, bringing into it the harsh vocal phrases of deep drawl growling and streams of mighty drive.