April 14, 2021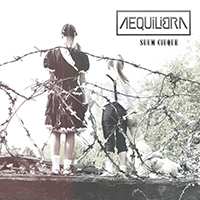 Siren sets an alarming mood sound of the Verboten song, then complementing this concern to demonic vocal screaming. After the chime bells, the female vocals dropped the rigidity continues to give the Aequilibra - Suum Cuique album with a soft ballad with otzonki chanson, at first gently, then increasingly emotionally, complementing the Hasslied music by the essays of mysticism and vocals of demonic screaming phrases. In part, keeping the ballad style, the Meine Freiheit again returns to the union of romantic mood with demonic vocal configuration.
The Blitzkrieg vocals story of harsh fabulousness is combined with the extensions of industrial musical impulses, as if transferring a medieval fairy tale in a distant future. The Totes Herz epic mystery of an ancient fairy tale is manifested in background rhythmic ripples and with keyboard passages of a singing lady with keyboards. The Finsternis song further deepens the atmosphere of ancient tales, bringing the spirit of the saga ratsarskih piercing ages and expanded vocals transformations.
The guitar solo of the Geboren Um Zu Sterben song's intro tolerates the atmosphere of romantic experiences, then complementing these musical elements by vocal changeable sensuality. Fixing on futuristic echoes of cosmic wanders, the Suum Cuique title track first complements vocal experiences mystical aspect. The album is completed by the recycled and rethinking version of the Verboten (Erweiterte Fassung) composition, which opened its musical gates.