June 22, 2020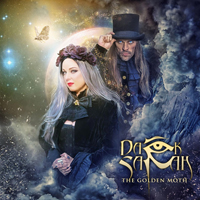 The Desert Rose track begins the Dark Sarah - The Golden Moth concept album by emphasizing its main feature - a duet of female and male vocals. A hardening musical essence, but retaining romanticism Trespasser introduces certain trends of doubt, experience and sadness with vocal thoughtfulness. Accelerating the tempo of the musical narration somewhat, the Wheel alternates male and female vocals, then weaving them together in the charming dance of the duet.
Charming with ballad romanticism My Beautiful Enemy weaves a vocal part in a mesmerizing waltz, combining the features of male and female vocals and an inspired musical symphony. I Once Had Wings continues bewitching romanticism, sometimes supplementing it with saddened vocal experiences, at another time raising the banners of the majestic procession of the solemn anthem. The narrative of memories of a previous experience brings the vocal part to the forefront of the Pirates musical image. The Sky Sailing continues the images laid down by the tale of the previous composition, enchanting with the sound of an exalted symphony and majestic vocal chants.
Female vocals captivate with soft tenderness and enchanting tunes, interwoven in the Wish charming musical romance with male vocals. Starting with a drum roll, foreshadowing the battle march Gods Speak then carries away with a combination of an incredible variety of musical styles. Returning again to the alternation of female and male vocals, Promise combines them in the symphonic triumph of the twilight anthem.
The title track of the Golden Moth album brings female vocals to the forefront, supporting it with the majestic background of the orchestra symphony. The Gate of Time completes the album with a monologue of male vocals with a muffled mystery of musical mystery in the background.