November 25, 2019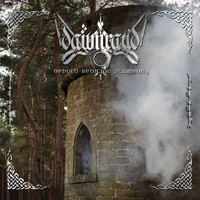 The soft and bewitching symphony of the Raise the Flails introduction captivates with the melodies of the violins and the gentle chime of the guitar strings, but the vocals complete the composition with an explosion of emotions. The Smell of Ancient Dust develops the musical motifs of the previous song and continues the Dawn Ray'd - Behold Sedition Plainsong album with a furious drive crowned with saddened violin passages, retreating with violin motifs to the background in fragments with vocals.
At the Like Smoke into Fog introduction, the guitar solo gives nervousness to the musical sound, further developing the verse with a swift drive. In the chorus, vocals come to the forefront of sound, music acquires a symphonic atmosphere. The vocal comes to the forefront of the musical To All, To All, To All! image of a harsh mid-tempo march, in the bridges the music enchants with the leisurely tunes of the violin.
A Time for Courage at the BorderlandsViolin motifs create an atmosphere of saddened romance of entry, then the introduction of vocals is preceded by an exhaustive acoustic guitar fingering. The vocals inspires a romantic ballad, then the composition combines the features of a mid-tempo march and a bewitching ballad. The emotional tunes of the Songs in the Key of Compromise main motive elevates vocal phrases to the top of the musical sound.
Vocals speech sets the melody of the Until the Forge Goes Cold introduction, then the musical passages circle around the vocal narrative creating ghosts that create a mystical atmosphere. Soft and melodic A Stone's Throw ballad combines acoustic guitar, violin and cello in a bewitching romantic saga. In the vocal part, the song uses romantic tunes of clean vocals.
Music escalates gloomily haze, carefully and painstakingly developing the essence of the Soon Will Be the Age of Lessons Learnt bewitching dark anthem, alternating tempo change. The newly grieved ballad romance combines the violin and acoustic guitar in the introduction, then the instruments gives the sound of the Salvation Rite song drive and power. The Curse the Dappled Light completes the album, alternating fragments of a furious drive of verses and a melodic symphony of instrumental bridges, combining life styles together in the chorus.