February 24, 2020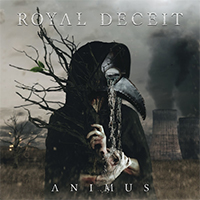 The gloomy mysterious atmosphere of the History Repeatscomposition sets a frightening intrigue, then vocals are combining screaming and growling into roll the waves of the End Of Days dark march, starting the Royal Deceit - Animus album with frightening omens.
But then the Bite The Curb music and vocals are intertwined into an alternation of contrasts - a hard gloomy drive with fierce growling and inspirational tunes of clean vocals with hopeful musical fragments. However, Just Business brings clean vocals to the forefront of the musical image, dispersing the darkness that enveloped the music and bringing inspiration to the sound of a mid-tempo composition, bordering with a ballad.
Sparkling with mesmerizing introductory guitar solos Elitist introduces a whirlwind of furious drive, sometimes hardening the sound of the clean vocals to a furious harsh, and alternating the nagging tunes with unbridled drive. The swift drive, summing up the measures with bright guitar passages, returns to rage and anger, alternating clean vocals and growling, but clean vocals ascend to the surface of the Chasing Ghosts musical stream in a chorus.
The romantic tunes of the Pariah introduction culminate in the unbridled fury of the verse, curling in a round dance of demonic growling, but retreating in chorus to the saddened solemnity of music and clean vocals. Starting with the swift waves of a furious drive, crowned by demonic growling, the chorus accentuates the Backstabber song's name with inspirational tunes of clean vocals.
Rolling the waves of the main motive Hang Them High then builds a compositional structure on vocal disputes, transforming vocals into recitative. Oceans Of Black again combines the harsh gloom of the verses with a fierce and furious growling, sometimes complementing the sound of screaming and inspired charm of choruses with sublime clean vocals. Setting the sound of the pulsating march to the introduction, the final composition of the album Echoes Of Hate embodies all the vocal styles used in its musical essence.