April 30, 2016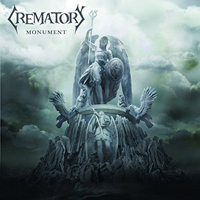 Keybords starts the tale of nothing with their passage, changed by growl narratin' the story of those, who was Misunderstood started by ask "take my hand". "Sweats on my lips, lights in my eyes" - all those things was misunderstood by someon, yep.
By this recognition in the "lights in eyes/sweets on lips" starts Crematory - Monument (Limited Edition) .
Dark wave covers the following tracks, Haus Mit Garten deutsche enhances dimensions of mysterious melody, that surrounds with the dramatic atmosphere. The story about "in mine house..." with keyboards forwards us to the end of the tale.
Haunting melody emerges in the introduction of Die So Soon, which then held a leitmotif through all the track. The song sounds like a hike bard was caught by gnomes-engineers ...they surrounded him with their inventions, modernizes organ and gramophone.
Starting with a confession monologue, Ravens Calling flows as if the jailed bard (from past story) sees raven through the grates of his jail, which "calls my name"...
Like Eskimos and Chukchi folklore burst with these sounds into a modern world, Eiskalt trasmitted the waves of northers folks into your mind with a pack of growl pieces...ohohoh, IceCold, freezin' all of us!
Howling ghosts - or drafts in a castle? Spirit whispering - or the rustling of curtains? Intro Nothing gave us that questions. Answer to them will be that kind - - "There's nothing in the world to see, there's nothing in my heart, There's nothing..., There's nothing...".
As in the old cartoon - compresses and expands clock spring Before I Die starts. Growlin' "I see - you starin' in my face!" - then follows "before I die" - then do like this, or so, or not so. Growlin' "I see - you starin' in my eyes!" ... then again clean vocals tells us what will be done "before I die" supported by mysterious keyboards.
Flying dragonflies, mosquitoes attack in intro of Falsche Tranen. The guitar conduct the main melody around which keyboards dances and lead vocals growl carries his burden. Everything captured Bard escaped out from dungeon and tells us the story of his hard life, using a couple of dwarf inventions. And everything he love - everything he lost...sad ending of this fairy tale.
Rage and tough intro of My Love Within continues by harsh ballad with the growl vocals carryin' the main part of narration for inclusions of dreamy clean vocals. Such a diverse and versatile ballad!
There were lots of "Final Battle" movies about the World War 2. But the story Die Letzte Schlacht tells us the general standings in the final battles "people VS order". Save Me completes this artwork with a kind of lullaby - still voice deliberately and calming leads his story, hinting - nowhere to hurry, there's no need to rush, useless make efforts. So - listen to it - that saves him!