October 02, 2018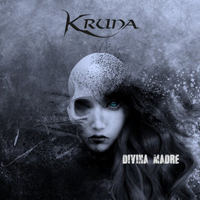 Power and fury roll with a tough statement of vocals in a harsh style, in the chorus of the first composition Born in Democracy of the Kruna - Divina Madre album, enveloping the main motif with the covers of enchanting melody and clean vocals dreaming.
The furious whirlwinds of the harsh drive weave the gloomy lace of the Make Enemies intro, continuing with the disturbed waves of the drive, holding back the experience of vocals inside the twisted shackles of their musical passages. But in the final part of the musical concept complements the mysterious mysteries and mystical romance.
Continuing the spirit of mysticism, the gloomy Strenght Child spells are transformed by pulsating waves of evil spirits, weaving a dark tunnel of drive around the vocal part.
A dense rhythmic Clash With Reality march bases its sound on vocal recitative, complementing the bridges with elements of mathematical progressive and complex changeable musical passages.
Mysterious pulsating musical waves develops The Spiral narration while reeling from side to side on the path chosen by vocal phrases. But these mysterious musical waves are complemented by epic musical shades. The vocal begins with doubtful harsh, continuing with the mysterious dreamy clean, but returns to harsh again, as if arguing with the clean vocals phrases.
Rejecting thoughtful reflections and mysterious magic fabrications Inhuman Infection throws a stream of impetuous high-speed drive into the album.
The title track is divided into two tracks - starting with Mother Divine, Pt. 1 (The Showdown) that sounds as a fusion of progressive thoughts with epic melodies and inspirational vocal delights. A grand hymn based on an epic melody remaining on the background of an enchanted leitmotif creates a bright and exciting musical image of the final part of the title track Mother Divine, Pt. 2.
The album closes with the Bury by Your Pains composition, which reflects the combination of epic and fairy-tale motifs characteristic of the album with a drive, grooving and energetic presentation.