June 23, 2020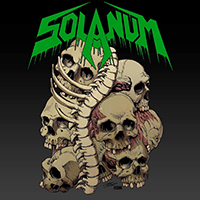 A curling, swirling whirlwind of furious drive from the unity of the fury of guitar riffs and vocal anger The Fall begins the musical narration by an uncontrolled musical thriller, weaving the artistic lace of a guitar solo into the introduction of the title track of the Solanum (USA) - The New Genocide album. But the introduction of vocals again brings an explosion of rage. Developing musical motives embedded in the title song, the Wretched Deciet supplements them with even more severe shades of inexorable drive and additions of epic musical notes.
Embodying in the introduction the direction of development of the main motive One Foot in the Grave then carries away the vocal narrative in the tunnel, woven from the whirlwinds of guitar riffs. Starting with the pulsation of the drum roll, the Harbinger of Death then accentuates the development of the musical essence, crowned with vocal emotionality, with a rhythmic heartbeat. A Bond of Flesh captivates into the realm of twilight tales and gloomy legends, exalting a vocal narrative on the wings of a swift drive. The Living Atrophy further develops the epic shades of musical narration.
The tough drum roll of the combat march in the introduction precedes the incredible speed of the Hang 'Em High musical thriller with the introduction of vocals. Intensifying the drive with intro guitars solo The Rotting is a mid-tempo vocal reflex, accelerating the pace of music in bridges and choruses. The Dawn of Extinction completes the album with an impressive combination of vocal charisma and musical artistry, combining severe drive and enchanting melody.