November 28, 2018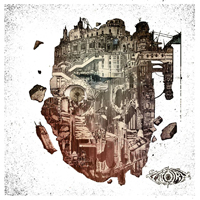 The title track starts the Zealotry - At The Nexus Of All Stillborn Worlds album, first whipping up a whirlwind of impetuous drive, then enveloping vocal phrases in a viscous musical dusk. The final part is dominated by folk choirs, sweeping the completion of the composition with spicy desert winds.
Dark covers are illuminated by the enchanting reflections of the Accursed (Intro) magnificent symphony, serving as an introduction to the sophisticated progressive dance of the musical diversity of the Lethe's Shroud composition, in which the vocal from time to time complements the musical image with its own phrases, but instrumental passages dominate the narration, which is especially noticeable when such an epic guitar solo flies into transcendental limits.
Immediately starting to develop and compose a fascinating hypostasis of the main motive, the Primus Venatoris song with the vocal entry wraps him in a majestic toga of progressive shades, fascinating with the bright complexity and fascinating originality of the musical image.
The noble echoes of the court minstrels fascinate in the mysterious introduction of The Hole, then the gloomy musical passages complement the meaningful vocal reflections with an appropriate edging. In the instrumental part, the guitar solo intertwines with the rest of the musical elements in a fascinating and unforgettable musical lace.
Stepping from side to side, the musical style of the Universal Deceit introduction creates a very exciting intrigue, the vocals are in unity with musical riddles enveloping his phrases with fascinating melodies and so charming musical shades. In the middle of the composition, dark drive envelops the main motive with harsh armor, but the composition preserves the chosen style without turning into rampant riot.
Spiritual chorals and church symphony end with pulsing dark waves of drive, completing the couplets with brooding instrumental bridges, discouraging the mysteriousness of the The Sky Bleeds Nightmares song, which has yet to perceive, unravel and realize.
After progressive and symphonic elements, Irredeemable collects them in a single stream of musical variations, and clothe the epic narration of ancient legends in such a fascinating and majestic performance, creating like a separate artwork. In this composition, not only musical variations create an unforgettable image, but also the vocal is transformed, showing several growling shades and from time to time giving emotional tones complementing the narration with the influence of screaming.