November 29, 2020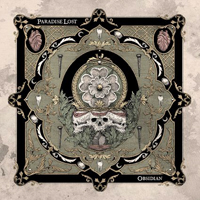 Beginning with a blend of saddened sadness and gentle musings of clean vocals, the Darker Thoughts then complements this woeful atmosphere with harsh growling phrases. Accentuating the twilight doubtfulness with the melodic lace of intro's guitar solo the Fall From Grace then complements this foreshadowing of the main motive with a pulsating march, crowning the Paradise Lost - Obsidian (Limited Edition) album's sequel with vocal narration. The Ghosts again sets the direction for the development of the main motive with the guitar solo of the intro, somewhat accelerating the tempo of the musical narration and introducing echoes of gothic twilight with vocal phrases.
Musical variations envelop the listener with The Devil Embraced veils of twilight solemnity, imparting notes of mystical mystery with vocal phrases. The vocals alternate between the doubts of the clean vocals in the verse and the grim confidence of the growling in the chorus. The vocal part comes to the fore of the musical image of the Forsaken composition. After the intriguing mystery of the introduction, the Serenity song takes you into an exciting dance of hit musical motives. Returning again to the romantic pensiveness of clean vocals, the Ending Days track enchants with unhurried pensiveness. The Hope Dies Young continues the sound of the previous composition, wrapping the reflections of clean vocals with sparkling guitar solo tapes. The Ravenghast unhurried musical mystery complements the ambiguity of the vocal dialogue of a brooding pure and emotional growling.
This release ends with a couple of bonus tracks - first, the Hear The Night (Bonus Track) captivates with the combination and alternation of vocal variations, then the Defiler (Bonus Track) captivates with an exciting guitar solo, crowned with vocal experiences.