April 02, 2020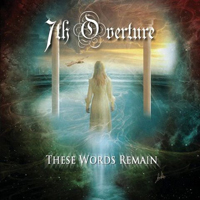 Fascinating the mesmerizing guitar solo of the introduction, Story of "Innocents", Pt. 1 then envelops the intriguing phrases of the vocal narrative with the majestic lace of progressive musical motifs, sparkling with changeable musical passages. In the vocal part, male vocals play a dominant role, complemented by background vocals of female vocals. Story of "Innocents", Pt. 2 concludes the dilogy that is opening the 7th Overture - These Words Remain album, introducing restrained waves of a pulsating drive, shrouded in an atmosphere of romantic reflection. In the vocal part the tunes of male and female vocals alternate, sometimes intertwining in a romantic duet.
First, the Final Hours guitars passages are surrounded by romantic anticipations of a bewitching ballad, but then the vocals appeal to a swift musical phrase. Then the music and vocals are intertwined in the progressive variability of musical variations. But This Cold Darkness continues the musical narration of the album with a romantic reverie of a pacifying ballad, dispelling with the encouraging thoughts of the vocal part the thickened dusk of the musical passages of the previous composition.
Speeding up the tempo of the Under the Sun musical composition, the vocals brings a whirlwind of playful inspiration, then the buzzing guitar solo brings some shades of anxiety, ending with the ascension of a keyboard symphony and a swift flight of musical variations in a progressive dance. The title track These Words Remain completes the album, in duration and volume, almost reaching a single album. However, such a long-lasting sound embodies in a single musical canvas such contrasting fragments as the symphonic suite inherent in classical music, romantic guitar solo and shades of progressive trends.