March 25, 2020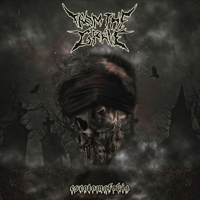 The noise of the wind and the bonfire create the backdrop for the brooding guitar solo and the obscure echoes of the crying victims, starting the From The Grave - Escotomafobia album with a title introduction. Then the Totem explodes in a furious rage of drive into the entry, anticipating the vocal part with a thoughtful passage, then following a wave of restrained drive along the line between the high-speed whirlwind and the average pace.
The war-like mood of musical militancy is complemented by background vocal tunes combining screaming and growling. The Almas music again and again varies the tempo and rhythm. Walking in the majestic procession of the Pesadilla dark anthem, the black knights carry smoldering banners of ghostly twilight, mystical melodism envelops the harsh vocal phrases of fierce growling. Music sometimes explodes with a furious drive of instrumental bridges. Profanadores somewhat accelerates the pace of the introduction, but then again returns to the mystical twilight, then repeating this alternation. Once again, unhurried vocal reflections shrouds in the covers of dark mysticism, marching along the significant march of the Azog majestic anthem. Gloomy Bestia Negra fairy tales envelop the vocal narrative with dark vortices of a harsh musical mystery, subduing a swift drive to accentuate vocal narration entwined with ribbons of gloomy guitar riffs. Beginning with the viscous malleability of musical fetters, Cuando el Cielo Se Torne Negro... continues the narrative of dark tales with a mid-tempo narrative crowned with harsh guitar passages, introducing a mystical charm with instrumental bridges, but then reinforcing the dense twilight with vocal anger.
The dancing mid-tempo procession of the Africanus song's music carries you to a wanderings through lifeless deserts, blinding you with the sparkling light of the scorching sun. The pulsating drive, like the heartbeat of invisible spirits, anticipates the development of the main motive of the Santuario de la Muerte rhythmic march, again and again emphasizing the importance and inevitability of building a worthy tomb for the dead. In the instrumental part, the flute brings shades of folklore charm. Exterminio completes the valbum with hit motifs of a mid-tempo drive, braiding the harsh vocal phrases with swirls of musical passages.