February 04, 2019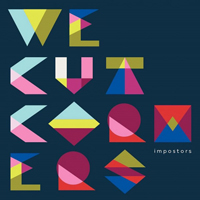 Vocal reflections interlaced with a muted musical haze title track's anticipate the beginning of the We Cut Corners - Impostors album, dancing with meditation, Rainy Night In Slomo is weaving together doubts and inspiration, soaring from side to side after the vocals.
Beginning like a warlock's reflections, Original Sin then transforms and brings in cabaret shades, wrapping playful vocal reflections with enchanting musical passages.
Anticipations and expectations of fascinating changes creates The Specialist inspired atmosphere, elevating thoughts and reflections to transcendental heights.
Slowly rolling out a musical canvas, the Stranded romance first introduces a country style, then elevates the song to emotional peaks, full of feelings and feelings with the vocal part.
Complementing the sound of the album with new and new elements, preserving ballad romanticism Iimpostors introduces the trends of French chanson, continuing the British youth style in the rebellious Eke song's sound, inspiring everyone with more and more musical trends.
Excitingly dancing, Laughing Maniacally is fascinating with the anticipation of significant changes, but he keeps waiting for the realization of this intrigue before the final passage.
Intriguing by the intro, then the vocals reveals the flower bud, revealing the emotional essence of the Ten Sentences song. A muffled ripple completes the song, smoothly flowing into the introduction of the Once In The Woods, the vocals muffledly whisper mysterious spells, soft guitar passages complement these muted mysterious reflections.
The enchanting reflections of a singing lady Iiimpostors completes the album similarly to the beginning.