April 10, 2022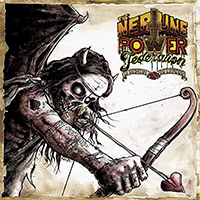 The music rises with a bright and irresistible ascension with echoes of a symphony of solemn expectations, but then the drive leads to the race together with vocal rebelliousness, beginning the musical narration of the The Neptune Power Federation - Le Demon De L'amour album with the freedom-loving assertiveness of the sound of the Weeping On The Morn song.
The guitar solo sets the sound of the leitmotif of the My Precious One composition, then crowned with the impatience of the vocal appeals of the singing lady.
The musical passages of the Baby You're Mine song bring to the sound of the album echoes of unexpected stylistic searches together with vocals intrigue, developing an expansion of the stylistic framework in the sound of the Loving You Is Killing Me composition, combining rebellious echoes of the rock'n'roll spirit with elements of romance and minstrel ballads.
Billowing with the swift whirlwind of the guitar drive of the intro, the Stay With Thee composition raises the banners of the solemn procession in the sound of the chorus. The Emmaline song captivates with the mystery of the unfolding of the musical flywheel and the surprises of changes in the musical path, carried away by vocal inspiration.
The rhythmic procession of the Madly In Love mid-tempo march combines vocal emotionality and echoes of spiritual anthems in sound. The vocal dialogue of male and female voices rolls out the musical canvas for the We Beasts Of The Night final composition of the album, which begins with enchanting melodies of singing leedi, then continuing with sensual melodies of male vocals and combining vocals in a duet.