August 04, 2021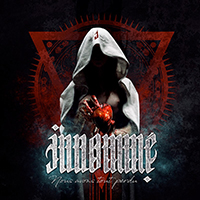 The La destruction narration of the sage opens the gates of the Innomme - Nous avons tout perdu album, continuing by the tips of the guitar rage around the axis of the main motive, combining the melody, rage and the power in the sound of the Inhumanite song. Music of the L'ombre intro creates an intriguing atmosphere, then flutting with vocal reflections in the fascinating dance of musical artistry.
Starting by keyboard passages of the Hymne mortelle, then hesitates the banners of the solemn anthem, varying the tempo and the melody of the musical narration, a variety of variables of the vocal party. The Pensees noires track is being built by rampant impatience, creating an atmosphere of a musical thriller, bringing shades of thought in the instrumental bridges. Epic crying of the Sang ecoule guitar's solo intro sets the direction of the sound and development of the main motive, carrying vocal reflections after hit musical appeals.
After an aggressive music entry, the L'ephemere composition displays the vocal batch, alternating screaming and growling, on the forefront of the musical image. The L'oubli is being built by the swift of the rapid drive, complementing the experiences of the musical essence of the romantic atmosphere created by Vocal Paardia - all this sounds like ... fierce French chanson!
The effortful explosion of the Du jour a la nuit musical rage retreats before mystical reflections of the warlock, then combined in a joint musical dance. The Le neant song in the completion of the album displays an epic medieval saga in a combination of vocal unstability at the head of musical sound.