January 27, 2017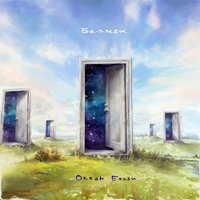 In different ways can be perceived Океан Ельзи - Без меж , maybe - that war not close to you? Step aside!
Draw a line, a clear, frank ... do not hide your thoughts and moods! You have to Віддай мені (Свою любов) for all of the purposes at will! Have to do that at will!
Thoughts and emotions can not be freed from dazes, embodied in verse of Не йди. But chorus releases them at all - so you can accept or refuse their flows and ambers to your mind.
Vortices keyboard passages of Джерело are combined with the main motive for daydreaming, inspiring all of us to continue to dream ... to seek for... someone or somewhat! Argh, that song inspires me to change all the world around!
Powerful strikes starts sounds of Сонце, which appeals to the understanding and empathy. It asks to take him with them...to her... or just far from usual ordinary shakles.
Since acoustic guitar fingering, thoughts and feelings incite calm feelings of Мить - but the feeling and thoughts are focused - keyboard passages and orchestra perpetuate experiences in indelible sentiments. But - even if they wait a moment, symphonic eddies and fine phrases will require attention. Again and again! Another moment ... in a momentc - spring is coming!
The tranquil atmosphere, symphonic moments and thoughtful phrases is creating an atmosphere, requires to ask a question - but how many emotions, thoughts and feelings in these words - Не твоя війна! Are you sure of it? Or not - ask yourself again and again!
Search for thoughts, feelings, even for yourself mind can directs into uncharted expanses - the mountains are not suitable? Search on Еверест for yourselfs entity, of course!
Dreamy vortices outline its path, but Хтось в небо летить leads on this road in its sublime delights of exquisite motifs.
Lyrical story Життя починається знов inspires us to further achievements, repeating and to bring to the consciousness that life begins again!
Nervous rains, rawness indicates coming of autumn...Осінь ows in the veins as hot juices, warm like spring and hot as summer! Do not kill the dream - it sounds and sounds!
The album ends with a calm and quiet ballad Без меж, oh - that was title track! Thoughtful mysterious vocals completes his intrigues, forcing expect these works of this group. And we will ...with no doubts!