June 20, 2017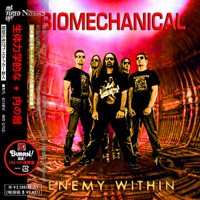 All the albums of this band have embodied in the single compilation Biomechanical - Enemy Within, creating an integral image of their creativity
The Awakening wakes you up from ordinary hibernation, tuning to listening to complex and interesting music, affecting so many different emotions and feelings. Unforgettable leitmotif takes us beyond the usual, bored reality, incarnating In The Core Of Darkness as unique ballad. Instrumental zeals summons gloomy twilight, crashing into a cruel, unrestrained, frenzied drive. But the composition ends anyway as an exquisite ballad.
Neo-classical intro turns into an alternation of many genres competing for the right of primacy in Hunted musical image. The transition from the song to the next, No Shadows, repeats the Eight Moons album with all its unrepeatable and indescribable charm. In this composition, classical motifs come to the fore. A wonderful, romantic ballad, title track of that artwork, Eight Moons, sensual, pensive and emotional Save Me and romantic, inspired and confessing until the hard rush, Point Of No Return continue to resemble the sound of that album.
Hard, undeniable, severe march Existenz begins a reminder of the musical themes of the band's second album, The Empires Of The Worlds. Rapid, unstoppable, complex and bright in its fickle musical sophistication Truth Denied continues this impulse. Title for that artwork, The Empires Of The Worlds in its mysterious, broken, unpredictable dance avoids predictions and boring ordinary moves. Viscous, gloomy, persistent in the introduction, Relinquished Destiny with the introduction of vocals takes to the open spaces of unfulfilled dreams, romantic aspirations. But cruelly and aggressively returns again to the shackles of discouraging reality. Again and again there are similar changes.
Enemy Within, which is the title track of this compilation, ends the second album rememberances and whole compilation with crazy and unpredictable delights of distorted reason, pretentiously recalling classical music and abrupt broken rhythmic decisions.
Oh! Hardly remembered - the third album, Cannibalised (Bleeped Promo Edited) also was awarded by the mention! Hard, ragged and uneasy rhythm raises The Unseen above the canons of the genre, twisted over them as if over ordinary and bored customs. The pulsating Breathing Silence sound resonates with the beating of your heart, starting with a calm and sensual manner, gradually saturated with impulses of anxiety and anticipation of changes. Fallen In Fear combining classical ideas with harsh, screaming vocal cries crowned memories of the third album.