October 30, 2021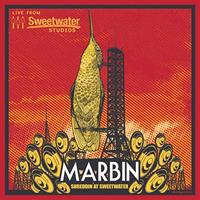 The stronger, demanding and confidently the Messy Mark composition carries us to the artistic fear of the sound of the Marbin - Shreddin' At Sweetwater album, varying the tempo and musical sounds with bright appearance of instrumental improvisations, again and again returning to the rhythmic procession of the leitmotation.
Further musical dilogy begins with sad memories lipstained in the Whiskey Chaser Intro saxopone's tunes, but then the guitar solo will rebel the waves of rhythmic synthesia, returning the atmosphere of the previous festival fun and fascinating in the Whiskey Chaser music of an unexpected dance. The Old Ways composition introduces the elements of nomadic motives and strange marches to the sound of this live album.
But wanderings and adventures also leave positive impressions, very well and fascinatingly embodied in the Escape From Hippie Mountain musical competition of improvisations of various instruments. Starting in pensive thoughts of the instrumental saxophone solo, the Electric Zombieland track continues to fascinate guitar improvisation. The Way To Riches shakes the sympathy, but then, keeping her echo introduces the shades of thoughtful and artistic doubts and searches.
The battle march with the oriental motifs then complements the epic shades in the sound of the Breaking The Cycle track. A hurry and unrestrained Arkansas Jumper composition anticipates the completion of the album with a hurried disadvantage, retreating in from non-reflective and weighted reflections of the Splaw final composition of the album.