August 12, 2016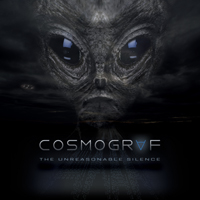 Is it difficult to describe the silence? Loud, soundless, meaningful or Cosmograf - The Unreasonable Silence can be as well!
The Echo Seduction of unknown spaces occurs slowly, unknown quantities burst into consciousness sharply, suddenly and unexpectedly ... but rarely. The introductory part of the experiment ends with a brief sentence in a whisper and the sound of steps led breaths and concentrating sound pulses.
An intriguing mystery of the overtightened intro ready us to This Film Might Change Your Life, after a long and sticky assumption comes inspiring hope and inspiration guitar riff, ascended thoughts on unknown spaces, sending consciousness on unexplored paths with unpredictable speed. This is followed by the wither phrase and keyboard passage, that supports it and enclosing within its shapes, but guitar wings do not allow a keyboard to limit the vocal delights whithin its borders.
Guitar break, gun burst shots, dialogues starts Plastic Man with keyboard passages wich supports vocals confession. Then guitar solo break prefigures emotional vocal nervous prases, that takes us far from familiar world into the unspokable void of plastical forecast, where all things are synthetic and far-fetched. Female dialogue on phone ends that imitation of life.
Dreamy beginning of the Arcade Machine hopes to expect help and support, but then the emotions and nerves take over. Instrumental break looming distorted artificial vocal phrases issued by remote recitative. Then we hear the dense and rhythmic broadcasting embittered spirit machines, which requires attention and obedience, without any relief and indulgence on his part.
Distorted vocals complements the surrounding RGB colors with lyrical melodic guitar fingering. That's fascinating mix supplemented with the talks, flashed on the background and with the rainbow, ascended by it.
Easy, but not simple to grasp blues Four Wall Euphoria followed by the female conversation on the phone, does not allow to forget about the everyday life of the city, surrounding us everywhere and are enclosed in the four walls of its borders.
Long wave of the The Uniform Road pumps intriguing intro with nervous waiting, uneven rhythm, and quiet vocal phrases only strengthen these nerves, bringing to the brink of rupture. Compounding this distorted the mysterious story of the invisible spirit, then oriental motifs frame the vocal chant.
Scientist describes The Silent Field, he has to design it with uses his knowledges and mind. Talks about the fields and shields, which he had left, to enter into another. The silence is so loud that inaudible!
Slow sad melancholic track Relativity explores the theme of the volume hushed silence that can not be heard. But while you can not listen to it, because it is not clear - where it is present, and where - is not.
The title track The Unreasonable Silence ends that fascinating story with its melancholical precious sounds, that clears mind from doubts. Keyboard intersect with guitars, continuously and uncontrollably competing for the main role, allowing the vocals to go forth.