February 01, 2018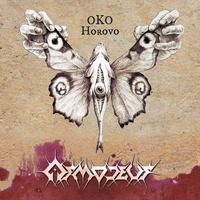 Smecka Prince Savlozubastarts the Asmodeus - Oko Horovo album with a dark romance, marvelous melody of a charming gloomy ballad fettering the will and vocals as if from the shade complements the pensive tunes.
The title track Oko Horovo continues the album with a stream of twilight drive in verses, pensively howling in artistic amazement in choruses.
Progressive musical improvisations lead to a mysterious intriguing picture Fenix Schizofrenix with various vocal phrases. forced to think about the complexity and unconsciousness of many phenomena of being.
A sharp drive is carried away in a deadly dance, pointing to Parazit's danger and monstrosity, broadcasting an incredible fairy tale with mysterious vocal phrases in the chorus. In the instrumental part, artistic melodic improvisation comes to the fore.
A confident and stubborn rhythm introduces a wave of gothic romance Kniha Mrtvych, vocal pensively complements this dark charm with its shade.
The viscous rhythm of Prokleti Sodomy pulsates as the twilight charming spell, the vocals change their nuances, complementing this fascinating musical composition, captivating the illusory world of incredible fantasies.
The swift race that completes tacts with meditative phrases sweeps through the surrounding twilight to vague reflections about 666 Oci Satanovych, again carried off in hurried impatience.
Soft romantic Midas reflections envelop the sensual atmosphere, but the soldering with sharp phrases complements this mysterious ballad with a touch of nervousness.
A significant legend confidently and solemnly moves through the fairy-tale chambers of the legendary castle V Ruinach Mesta Ur, marching with a confident pace of wise pilgrims who have passed incredible trials, announcing the coming battles. Then comes to the fore an emotional bard, glorifying the exploits of the legendary heroes.
Epic tale Cerne Vody Ninive completes the album with the enchanting dusk of artistic narration, which does not make sense to overly describe, but while listening each will receive unique personal impressions.