July 08, 2020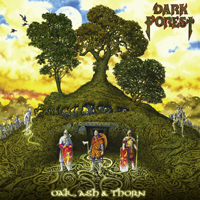 The soft acoustic guitar solo Aelfscyne with the sound of rain in the background creates the charm of the Dark Forest (GBR) - Oak, Ash & Thorn album's bardic saga intro. The Wayfarer's Eve develops the motive inherent in the introduction with a sparkling union of restrained drive and epic melody, crowning this artistry with emotional vocal phrases.
Epic outlines of folklore motives captivate with the inspiration of ancient fairy tales, intertwining in a circling dance with the vocal narration of The Midnight Folk storyteller. Captivating with the charming melody of the Relics main motive, the vocals bring a touch of ballad romanticism, somewhat accelerating the tempo in the instrumental bridges and the inspired sound of the chorus. The Avalon Rising continues a similar style, confidently and epic following the musical path laid by the main motive.
The album's title track Oak, Ash & Thorn is so epic and diverse that it appears as if it were a separate artwork, embodying an incredible variety of musical solutions and various forms of artistry. Accentuating the sound of folklore echoes of the main motive The Woodlander follows its path, wrapping around the inspired vocal narration with guitar passages.
Complementing the solemn melody and variations of rhythm and tempo with echoes of long-standing historical events, the Eadric's Return takes you into the experience of medieval battles and adventures. The Heart of the Rose instrumental symphony concludes the album, combining a pulsating march with an enchanting melody.