December 22, 2020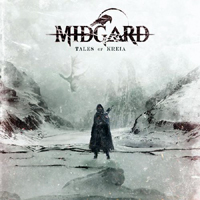 Vivid and impressive guitar solos intertwine with epic vocal phrases of the Necromancer solemn anthem, then surging in a whirlwind of unrestrained drive, but then transformed by the mid-tempo procession of the epic saga. The folklore tunes of the singing lady continue the Midgard (Ukr) - Tales of Kreia album, then speeding up and speeding up the round dance of folklore motives, delighting their unity with the harsh musical drive of The Horde battle march. Tightening the musical passages, the Velmehazerun Dolian intensifies the race of the impetuous drive, restraining the swiftness of the tempo with the vocal part. Keeping the enchanting influence of northern folklore, The Ring enchants with the sound of a romantic ballad, as if shining with reflections of sparkling snow.
The tale of the Dwarf King takes sparkling musical foreheads into a swift whirlwind, winding their musical variations in blizzards. Forcing the stubbornness of the main motive, the Keeper of the Freedom elevates vocal indignation to the top of the musical image. Setting the direction of the development of the musical essence, the Reaper with the chime of percussion then carries away with the bright sparkle of the epic saga. The Elven Blade chants of the flute and the invisibility of the invisible fairy create an atmosphere of a fairy tale, complemented by a romantic narration of clean vocals.
But The Hunt explodes into a fast-paced musical thriller, combining vocal fury with musical militancy. The bright sounding of the Black Widow leitmotif takes you into the vastness of ancient fairy tales and epic legends. The final composition Ice Spirit begins with the narration of the storyteller, ending with a solemn procession of musical epicness into unity with the growling vocal severity.