July 21, 2022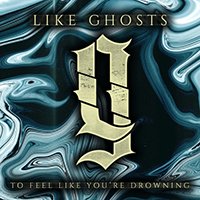 Vocals doubts and reflections are intertwined in a fascinating dance with musical variations, fascinating in the sound of the Iris song with the surprise of transformations and the artistry of musical variations. The title track continues the sound of the Like Ghosts - To Feel Like You're Drowning (EP) album, progressively complicating the rhythm and combining the pressure of restrained musical drive with the dreamy ascension of the vocal part.
Continuing to experiment with the complication of musical rhythmics, the Outlanders song again shares the sensual emotionality of vocals reflections with the artistic variety of musical variations.
The melodic charm of the main motif of the Where I Want to Be ballad manifested in the introduction is then combined in a single musical stream with vocals inspiration.
A musical whirlwind wraps around the vocal phrases of the With Friends Like Me... song, intertwining with them in an exciting musical canvas that accentuates vocals reverie and continuing in the vocal delights of the Fire final composition in continuation of such musical style.