October 08, 2018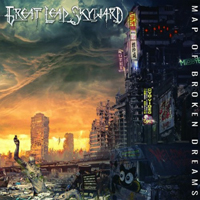 Self-titled song Great Leap Skyward starts the Great Leap Skyward - Map Of Broken Dreams album narration, which combines epic symphony, bardic ballad influences and progressive musical decisions.
I Am The Black Matriarch intro breaks into a furious drive, then vocal delights are intertwined in a complex rhythmic pattern with musical solutions, bringing to the fore the epic tale with a fascinating and varied musical background. Then the composition shifts into the gloomy haze of bardic reflections. At the end of the song goes to the style of the beginning, even embittering vocals in the final segment.
From the ancient legends, while preserving the epic style Singularity leads thoughts into the futuristic expanses of scientific thinking, whistling a fascinating melody around the axis of the main motive.
Beginning with a soft and epic romance Kindred envelops the motives of modern music, facilitating and simplifying the perception of the album.
Futuristic themes continue with the following compositions: first, Junkyard Planet intertwines the drive blasts with thoughtful incredibly melodic instrumental bridges and romantic vocal melodies, then, starting with a romantic break, Nuclear Winter intertwined melodious motifs in lace of progressive musical solutions with marvelous fabulous shades. Sepulcral Y Sin Nombre continues the previous composition, discarding cutting-edge motifs and focusing on the chanting of ancient legends. The motives are perceived and the northern sagas of militant vikings and brooding Indian motifs.
The album concludes with the Black Sea Of Trees composition that sums up previous narrations - dreamy, clean, severe growling and raw screaming in the vocal part of the suite. In the instrumental part, the cello complements the musical image with a charming symphony, very brightly and temptingly expanding the potential audience.