August 03, 2020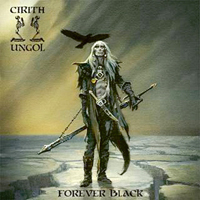 The pensive mystery of The Call Cirith Ungol - Forever Black album's intro mystery is torn apart by the zealous emotionality of vocal rage, intertwining with the whirlwind of the Legions Arise musical rage in a single burst of musical image.
Rolling in waves of a mid-tempo march, The Frost Monstreme elevates the vocal part to the heights of the musical procession of the stern march. The Fire Divine completes the rolling of reverie and other musical fabrications, braiding the charisma of the vocal narrative with turns of the sparkling tape of the guitar solo.
The Stormbringer vocal part raises the emotional banners of their phrases above the musical waves. The Fractus Promissum with progressively fractured musical passages supports the emotional appeal of the vocals and precedes an incredibly artistic guitar solo. The harsh passages of the Nightmare dark anthem raise the banners of gloomy greatness.
The guitar solo weaves an artistic lace, anticipating the entry of vocal romanticism into the Before Tomorrow twilight ballad procession. Finishing album the Forever Black remains on the verge of a mid-tempo battle march, complementing the vocal significance with a pulsating drive.