March 22, 2021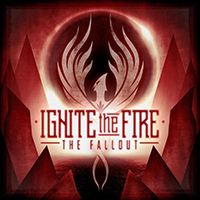 The title track starts the Ignite the Fire - The Fallout album with a mysterious intriguing introduction, then brings in echoes of the complex rhythm of shamanic rituals, complemented by mysterious appeals of ritual chants, serving as an introduction to the next composition What Are You Waiting For, in which vocals and music are intertwined in a captivating musical stream, captivating the listener for repeated listening. The echoes of ancient fairy tales are embodied in wordless chants that set the mystical atmosphere of the story of the When Giants Fall song.
Futuristic mystery combines an incredible variety of stylistic shades in the sound of the Unstoppable song, as if taking us to a distant future. The Not Alone track captivates with the sound of an inspirational ballad, grabbing attention and becoming perhaps the most significant and successful composition of the release. While maintaining a romantic mood, the Fine expands the stylistic framework somewhat, taking vocal experiences to the top of the musical stream. The Spark begins with a piano solo and saddened reflections of vocal memories, then condensing and exalting the banners of impassioned emotion.
A vocal monologue sets the path for the development of the One Last Breath main motive. Vocal emotions and experiences, like invisible threads, penetrate the listener's mind and appeal to his memories. The Echoes (Reprise) closes the release with an acoustic ballad in a keyboard solo dance with vocal inspiration.