February 02, 2018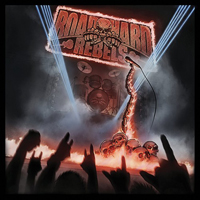 The playfully dancing Speed motive starts the Road Hard Rebels - Road Hard Rebels album with an enthusiastic exaltation of idle spirit. Vocals bring a mood of rebellion and rough sound. Guitar solo in the instrumental part gives artistry element to this riot.
After the realization of the main motive in a leisurely dance of guitar riffs, the vocalist presents his My Way Or The Highway vision, remaining all the time the composition on the front edge of the sound.
Road Hard complements the album with blues notes, filling the musical image in the chorus and instrumental part with depth and sonority. Guitar solo charms with artistry and thoughtful charm, leaving vivid and unforgettable impressions. The romantic atmosphere of a sensual ballad Would You Stay carries to the cloud castles realms, illusory blessings and fairy knights.
Again the Takillya Blues motifs envelop the consciousness with seeds of thoughts and put before a choice, sublime and spiritual keyboard passages on the background bring the influence of experience and wisdom.
Teach Me To Love poses the problem for the sage, which is changeable and requires constant attention. In a pensive atmosphere of mysterious musical bends, this demand sounds again and again.
The sound of Time For Everything To Change starts the final stage of the album, which brings a wave of lyrical romance. In this composition, the reflections on being precede, pose before the choice of inevitable changes and reflections on their orderly sequence. The thoughtful, meaningful ballad Not The One focuses on the question of evaluating one's own role in the world around him, defining clearly and without the slightest doubt, whatever the surrounding people might think.
Freedom and independence from the views of others is combined in a rebellious sound, Home For Some Lovin especially focusing on the fact that you should not listen and believe the words of your girlfriend, father and other relatives.
Appeal to legends and classics is embodied in the final composition of the album All About Her, systematically and confidently rolling out a pulsating rhythm and complementing his music along the chosen path.