December 06, 2020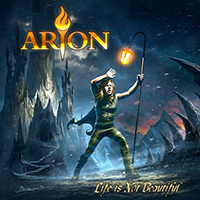 The End of the Fall sound of the Arion (FIN) - Life Is Not Beautiful album begins with The End of the Fall epic fantasy of the inspired symphony, and then the No One Stands in My Way revives with the combination of exciting sound and popular music. The vocal influence of the guest star brings incredible charm to the sound of the At the Break of Dawn (feat. Elize Ryd) composition.
The symphonic inspiration of the echoes of the ancient legend is further combined with the influence of these motives on the swift drive of The Last Sacrifice song. Guitar solo takes you into the vastness of fabulous spaces. The Through Your Falling Tears captivates with romantic tunes of a bewitching ballad, bringing sensuality and emotions with vocal emotions. Beginning with technogenic pulsations, the Unforgivable in the further swiftness of the musical stream unites several musical styles.
Exploding with a frenzy of drums, the Punish You again calls out to the old-school echoes of drive, while retaining, however, the influence of popular music. Life Is Not BeautifulBringing unexpected progressiveness to the guitar solo of intro, the Life Is Not Beautiful unexpectedly develops these tendencies with symphonic influence and a captivating chorus ballad that lifts the verse's mid-tempo anthem, anticipating the romanticism of the album's final Last One Falls ballad.