January 28, 2022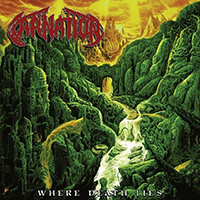 Energetically, fiercely and thrillingly, the Iron Discipline song begins the musical dance of the Carnation - Where Death Lies album, combining power and drive with variations in tempo and artistic musical solutions. The bright guitar solo of the Sepulcher of Alteration intro charms the listener with echoes of epic motifs, then pummels waves of unrestrained drive and vocal fury.
The sound of the Where Death Lies musical thriller captivates and draws you into a powerful assault of musical contradictions and obstacles on your chosen path. The Spirit Excision composition continues this stylistics, somewhat subduing the musical swiftness in favor of the pulsations of a harsh rhythmic march.
The intriguing sound of the intro anticipates the rhythmic twist of the mid-tempo march of the Napalm Ascension song, which after the afterglow explodes with a flight of unrestrained drive and anticipates the epic mystery of the Serpent's Breath twilight tale.
After a fierce and energetic guitar solo introduction, the vocals take over the dominance of the Malformed Regrowth musical image, subordinating the further musical procession to their instructions. The Reincarnation expands the stylistic framework of the album with a symphonic introduction, then cladding the majestic symphony in sparkling armor of power and drive, plunging the intriguing mystery of the twilight sound of the In Chasms Abysmal final composition.