March 22, 2022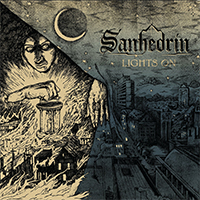 Insistently, persistently, and unyieldingly, the guitar passages raise the banner of the Correction main motif, then are set off by the sparkling emotionality of the vocal foreshadowing. The Sanhedrin (USA) - Lights On album's title track solemnly and meaningfully pulsates the lightning of the musical narrative, complementing them with inspired rhythmic pulsation.
The music and vocals of the Lost At Sea track unite in a joint dance, complementing the vocal phrases of the main part with the background chorus and uniting them in the chorus. The Change Takes Forever song rolls in waves of stubborn and relentless drive, foreshadowing the unity with vocals outrage and rebellion.
The musical motifs of the Code Blue song give the sound an atmosphere of charm and romantic echoes. The Scythian Women song swirls with warlike drive and rebellious, unyielding drive in an energetic musical sound.
The epic procession and solemn march of the Hero's End musical anthem lay out the appropriate canvas for the meaningful vocal procession, which anticipates the mysterious and artistic sound of the Death Is A Door album's final track.