February 15, 2022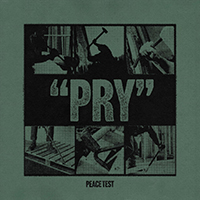 The distortion of the Peace Test - Pry album's title track guitar sound sets the beginning the music with nervous rage, continuing with the insistent rebellious sound of the Combat Boot song full of vocal anger and concluding with the explosion of furious Boxcutter drive, that is anticipating the alternation of the mid-tempo march with the furious explosions of the Slow Brain composition.
The vocals bring their phrases to the forefront of the Dose musical image, preparing for the further perception of the sound of the insistent narration of the Vigil and 40% songs. Slowly and thoughtfully following the chosen path, the Platform track creates an image of some changes in the album, but then the vocal part again calls for a rebellious frenzy, which continues in the sound of the Empathizer, Exclusion and Prime Suspect songs.
The Deadpan composition again turns to reflection, interspersed with bursts of vocal frenzy, continuing in the pressure of the No Advocate song and the Accomplice final musical solution.