February 15, 2019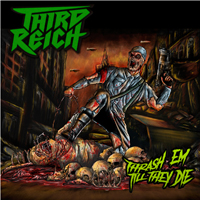 Electronic impulses braid the narrator, with shots and gunfire against the background of the remembering beginning of the 3rd World War in Intro. A vague and gloomy introduction envelops the beginning of Through The Pain song with a dark sacrament, then vocal begins with a pulsing march to begin the true sound of harsh metal the Third Reich - Thrash Em Till They Die album. From time to time, the whirlwinds of the swift drive burst into the sound of the composition, then pumping the tempo of the song to the upper limit of the average tempo.
Being manifested in the introduction, the main motive of the title composition Thrash Em Till They Die does not recedes, sometimes receding for a bit to the background in the instrumental bridges, but again ascending with the returns of the vocals.
A pulsating drum roll leads to a militant attitude, but then the march leads to a swift, irresistible drive of the O.S.F.L verses. But the squad sings a chorus in the chorus, anticipating an inspired guitar solo.
Carried out in the swift twilight of the intro, The Violence Offering prepares for vocal entry with a rolling dusk, then concentrating on the emotions of the vocal and bringing it to the forefront of the musical image.
Twisting the spiral of a rapid tempo in the Joint Of Hate introduction is whirling away in the rampant race of the drive, twirling doubts with vocal reflections and brooding guitar solos.
Thoughts of entry into the development of a rapid motive, Scrolling The Trigger carries away in a furious race of irresistible drive. But the chorus and the final part complete the composition with mid-tempo reflections under the march. The most diverse, embodying in his music several shades of the genre presented in the album, Cyclone composition completes the album. The vocals in it sounds harsher, tougher and richer.