August 04, 2019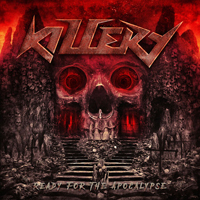 The title track begins the Killery - Ready For The Apocalypse album by focusing on rage and anger. The vocal part is based on a severe harsh, weaving together several musical genres.
A harsh mid-tempo march No Rest For The Wicked continues the album, focusing on vocals severity shrouded in melodic musical passages. Epic winds from the eastern deserts brings a spicy atmosphere of the Prophet Of Chaos, then music and vocals bring a mesmerizing fusion of rage and melody.
The dense, severe and concentrated March To Hell anthem to dark grandeur interweaves the alternation of tempos, completing the composition with a swift drive. After a brief inspiration, the epic passages of the Blood Deliveryman intro falls apart into the main motive, topped with phrases of the vocal part.
The bass guitars solo begins the Fuck You All composition, then the musical narrative develops the assigned basis, bluntly and powerfully rolling powerful waves of drive. As if continuing the previous song Curse Of The Serpent is riding away in an uncontrolled drive race, giving the vocal part shades of epic narration with notes of accompaniment.
Driving a wave of mid-tempo narration 1 preserves the veils of melody, giving them power. The Law Of The Strongests vocal part is hardened and removed in the direction of severe growling. Severely and tightly Exuding Hate completes the album with a mid-tempo drive with fierce vocal phrases, giving them shades of screaming and growling.