January 31, 2022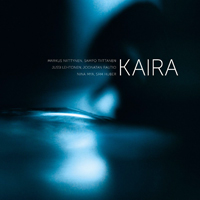 The intriguing musical passages of the Shining Star composition are combined with the charm of the singing lady's vocals tunes, opening the musical gates of the Каира - Kaira (feat. Nina Mya) jazz festival.
The Never Say Never song continues the musical narrative with thoughtful romance, enchanting with artistic keyboard passages and saxophone solos.
The You Are Too Perfect romantic ballad captivates with musical reflections and vocal inflections, beginning immediately with the proclamations and accents of the title. The recitative of the Playing With Your Life male vocals extends the stylistic framework of the album, then complementing the female vocals with the final phrases of the male vocals in the musical bars.
The vocal tunes of the singing lady are in the foreground of the Magic (Beyond Words) musical image, and the artistic chiming of the instrumental bridges completes the compositional outlines. The Since Then song complements the pensive vocal charm with soft charming tenderness of quivering keyboards passages.
The artistic vocal duet is progressively and vividly combined with the impressive melody of the Just The Way It Is composition. The Let's Keep It Like This song again gives significance to the reflections of the male vocals, complementing them with the background tunes of the singing lady. The Shining Star Reprise reinterpretation and variations on the theme of the starting composition complete the album.