October 13, 2017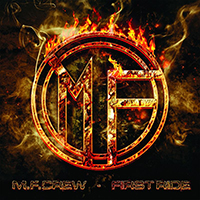 Intro gather friends in the cafe, clink glasses, discuss different events, on the background of the guitar and the vocalist lets in a certain amount of blues, starting M.F.Crew - First Ride album as well.
Memories of the experiences, together with Old Friends, wraps around the motto of the main motive and vocal phrases.
A guitar chime, a spirit of anxiety and anticipation of future changes arises - otherwise it can not be, because Paris Is Burning. In vocal parts, the main vocal is combined with a multitude of other voices, creating an arbitrary picture, allowing the music from time to time to burst into rapid rushes.
The No Way in Hell introduction creates a sense of change in the musical style, but then the music, becoming more dense, viscous and restrained returns to the familiar positions.
Playfulness is combined with anxiety in I'm Drowning sounding. The vocals joins adds mood and emotionality, making the musical image much brighter and more spectacular.
30th years of the last century, the mafia, disassemblies are remembered in Al Capone song. Vocal starting story brings the beginning of the story to parting with parents, musical motifs are hovering around as the certain vortexes.
Perhaps the previous composition seemed somewhat florid and complex - the artless pressure of Last Beer (part 1) becomes more insistent. The announcer broadcasts on the radio, but no one regrets, confidently responding to him - no remorse, no regrets! But the announcer does not back down and does not give up - he continues to teach and instruct guys in pub.
Brings a large share of diversity Jam Bomber, starting with a swift recalcitrant drive, continues as a pensive romantic ballad. But the ending returns to the style of the beginning.
A muffled whisper and quiet instrumental moves in The Rover introduction begins restrained ballad in which romance and emotions are played by a variety of different musical shades and passages.
Energy and power drives their energy into the La Verdura road, but the vocals restrain this musical extravaganza, subordinating it to their words. But then the music is raised again, emphasizing its importance.
Wow, this song Route 66 was performed by so many artists that it's simply impossible to enumerate all of them, let us mention, perhaps, only the one who made it so famous, Nat King Cole. In this interpreting, the voice is deep and diverse, the spirit of youth and rock 'n' roll does not let you forget about the long journey that has to be passed again and again.
A portion of the blues completes the album, calmly and steadily hoping that you will all prefer to Ride With Us in future?