August 26, 2019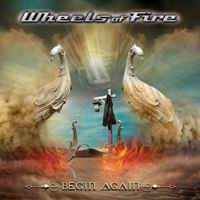 Driving in waves of the main motive Scratch That Bitch shows a rebellious character, starting the Wheels Of Fire - Begin Again album with a mood charged with trials and adventures. Slowly rolling a mid-tempo march Lift Me Up bordering on a ballad marches with a banner of inspiration and encouraging promises. Developing hopes and aspirations a whirlwind of light romanticism Tonight Belongs to You raises the limits of evening relaxation and upcoming entertainment.
The martial passages of the Done for the Day introduction and instrumental bridges recedes before the inspired vocal narration of verses and choruses. Then a tender and incredibly romantic ballad For You envelops dreamy vocal reflections with bewitching symphonic covers.
Vocal phrases rise to the top of the Keep Me Close main motive, raising a flaming torch of emotions to the top of the musical image, then some notes of blues appear on the background of a medium-tempo musical composition of the Heart of Stone song. Bright and encouraging motifs intertwine the guitar and keyboard passages, raising You'll Never Be Lonely Again vocals reflections on the podium of artistic melody. But Another Step in the Dark envelops the listener with vortices of mystical predictions, complementing the sound of the album with epic trends. The album is completed with bewitching ballads - first Call My Name suggests a bewitching haze of fairytale symphony, as if the vocal part is led by an invisible incarnation of the mystical prince. Then Can't Stand It gives the vocal part doubts and experiences and approaches the average pace in the musical narration.
But the Wheels of Fire (Bonus Track) composition complements this release with a certain bonus, taking off into the atmosphere of the 80s.