May 18, 2019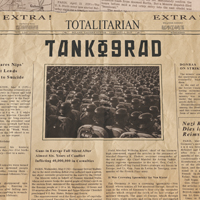 The impenetrable fog and twilight haze enveloped muffled Ostatni Sen Joachima vocals reflections, the musical sacrament lifts the guitar passage and in the vocal phrases of the sparkler disturbing emotions and cautious experiences, setting the dominant shades in the style of the Tankograd - Totalitarian album.
The Arkhangelsk song is continuing the atmosphere of the gloomy sacrament, envelops the listener with clubs of dark musical haze, slowly paced in ghostly shadows through the twilight covers of the musical smoke. In the vocal part, there are certain shades of reverie. In the bridges there are ghosts of vague romance. The explosions and the darkness of the bombing precedes the final part of the composition.
A vague romance rolls in waves of restrained sadness, the Lot do Kraju vocals begins with painful reflections, as if turning over the rosary of doubt. Then rage and anger appear in the vocal, hardening to severe growling. Then the dictator's speech follows and the vocals return to the sad narration.
The Zelazne Trumny main motive irresistibly rolls waves of reverie, leaving plenty of time for reflection on fate, removing the carelessness and recklessness. Occasionally vocal phrases complement the musical image with emotional outbursts.
Preserving the general atmosphere of thoughtful experiences, the final composition of the album Mir completes it in the dances of the main motif, lace-making mysteriously dance, thoughtfully hovers in the twilight haze of the musical atmosphere around vocals phrases. In the middle of the composition, the growling anticipates the instrumental part with a bit of harsh drive and the final segment.