January 18, 2019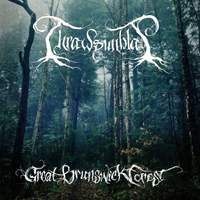 Acoustic guitar passages create the opening Green Man of East Canada lace, intertwining with vocal phrases in a misguided narration that opens the Thrawsunblat - Great Brunswick Forest album's gates to further attention, complementing the narration with violins and other instruments.
Guitar passages envelops Here I Am a Fortress vocal delights with an enchanting tunnel of brooding narration, woven and enriched with violin influences. Folk legends are enveloped by the enchanting influences of modern musical shades, despising the centuries and ages that separates them as well.
The vocals recedes into the Via Canadensis background, complementing the musical lace, with the charming shades of musical lace.
Folk chants are intertwined, referring to the northern expanses - Song of the Summit embodies the spirit of the Vikings, which is indestructible and forever honor the land of their ancestors.
Thoughts and reflections of vocal phrases twist the brooding acoustic guitar solo into the Thus Spoke the Wind intro, then guitar parts are intertwined in the instrumental bridge, but vocal reflections push them back into the background and in the final stretch they are woven together.
But the vocal party ascends to the dominant role, elevating its primacy in the intro of the Great Brunswick Forest composition, further continuing the union of medieval court minstrels with wandering bards in the title's track. Singer of Ageless Times continues similar stylistics, pacifying the musical narration even more and bringing vocal reflections to the forefront of the musical image.
Acoustic guitar, intertwining in the pensive passage of passages narrative pensive Dark Sky Sanctuary intro. But after a brief pause, the final composition of the album appeals to the vocals, completing the album with thoughtful reflections of the vocals intertwined with musical tapes.