May 28, 2017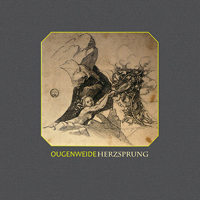 Ougenweide - Herzsprung resurrects unforgettable ancient tales and legends, sparkling with sparkling and charming shades!
Wind instruments, horns plunges us into an atmosphere of so miraculous mystery and bright Middle Ages by the Tritons Ruf instrumental intro. Herzsprung turns that gentle legends into ministrel tales with tender motifs of carefull strings fingering.
Flute and thoughtful, wise experience of the guitar riff accompanies the vocal legend that tells Phol Ende Uuodan, demanding to delve into the destinies of the world and the emotions of all around.
The mysterious, pensive and restrained melody surrounds the thinking of the singing bard lady in the Ein Leis Und Traurig Lied, combining in the fog of providence and imaginary possibilities. The intrigue lights up with bright flashes, but is immediately lost in the dense fog of a restrained and muffled legend.
Medieval stories and melodies fascinate the memory of times in Dy Minne, the gentle voice of the lady so charmingly combines with instrumental delights, fairy tales and legends arises from the ashes of age-old oblivion.
Violin evokes vortexes of Einem Lieben emotions, the lady remembers the past experiences, again and again circling in the dance of past memories.
Bard returns to his song stories in Uisk Flo Aftar Themo Uuatare with rare fairies inclusion chants, brightly complementing the pensive vocal with bright instrumental passages, more and more complementing and increasing the depth of their sounding.
Lady's phrases are dancing in fascinating and charming dance, playing so exciting game as Dansa Jojoza.
Lilien & Rosen begins romantic stories of the bard lady, creating an atmosphere of meditative tender melancholy, memories of previous emotions and lost opportunities. Ella Mia continues a similar musical hypostasis, again indulging in the experiences experienced with so charming and wise lady's voice.
So soft, sensual and dreamy instrumental ballad Der Welsche Tanz captivates over the clouds, in the reign of sunlight. Ich Sachs Eins Mals continues to tell the same dreamy and ancient legend by the ledy bard phrases.
Echo and Partite Amore envelops with soft phrases and gentle atmosphere of encouraging confidence of wise, hopeful ballad.
Wind instruments and chimes of dulcimer completes the album through the Epilog.