October 14, 2019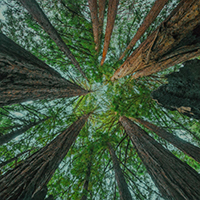 The pulsating chimes intertwines in a bewitching dance with emotional vocal phrases complementing the Ruminate musical image with doubts and thoughtfulness. Belong continues the Slenderbodies - Komorebi album with an enchanting echo of the romantic atmosphere of a mysterious romance. Nothing brings vocal phrases to the forefront, complementing them with a mysterious lace of musical passages.
Moods creates an atmosphere of enchanting mystery, then indulging in leisurely and unhurried Senses thoughts. But Dewdrops brings shades of epic mystery to the music. Preserving the fabulous atmsofser, Tangled Up accentuates the name with musical variations.
Giving the mesmerizing romance of the French chanson Departure wraps up the shawl of romantic experiences. Arrival continues the experience of the previous composition with the impressions of wanderings and inspired premonitions of discoveries after the journey.
After wanderings and adventures, a soft and gentle instrumental ballad Hearth captivates with a soft guitar brute force guitar solo. Away From You continuing the soft melody of the previous composition, complements the album's end with dreamy vocal proclamations.