April 22, 2017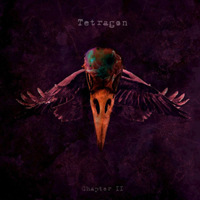 Have you already begun to read the collection of our fairy tales? Well - then we present Tetragon - Chapter II to your attention.
So mysterious and mystical fairy tale Until The Ravens Fall begins with vortices in a gloomy fog, circling around a single axis, starting with a clean vocal, then unifying in a single stream of vocal revelations clean, harsh, screaming and growling vocals.
The Distant Sirens chants starts the composition, which is dragging into the mysterious and unprecedented dance of mystical beings.
Vocal breaks the sound into a frenzied drive, clean vocal returns Downfall to an unprecedented dance, circling around an imaginary axis.
Mystical intriguing melodies turn the beginning of Soil Of Tears into a romantic ballad, rushing to the abyss of unrestrained drive. But the music slips on the inconspicuous edge of reality, again returning to the lyric rommantike in the instrumental solo, after which again falling into the abyss of a furious drive. The Place In Afterlife composition creates an atmosphere of an endless dispute of a dry, restrained growling with an emotional clean harsh vocal. Music in mystical vortexes captivates into expanses of fictional dreams and amazing impressions.
Hard, powerful rhythmic beats drive the base of the Edges path, then the guitar motifs follow the paved path, sweeping through the swift winds. With the introduction of the vocal composition turns into a romantic ballad, then hardening and weighting the sound. Then the vocal replaces with combination of growling and harsh, the composition changes the rage of the drive to the complexity and sophistication of the mysterious motifs. And the story ends.