June 13, 2022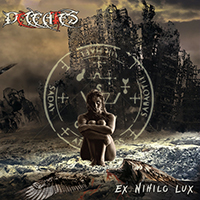 The screams of the crowd, the oriental songs and the frightening sounds of the shots of the Et Lux in Tenebris Lucet track are the intro of the Deceates - Ex Nihilo Lux album, continuing with an explosion of frantic drive combined with the frantic growling of the Armageddon vocals of a fierce witch, which in sound are complemented by the enchanting guitar solo of the instrumental part with oriental shades and the melodic charm of the chorus.
In the sound of the Gone Away frantic musical thriller, music and vocals are woven together in a joint musical creation. The Ezekiel 1:26 guitars solo is acting as the introduction of the Time composition, which, in addition to the assertive and persistent drive, complements the demonic screaming with clean male vocals, alternating them or combining them in a vocals argument. The vocals narrative of the Rage musical saga is brought to the forefront of the musical image, without but preventing the ascension of the enchanting guitar solo.
The sound of the fire, the buzzing of flies, the tunes of the gramophone and the echoes of the distant indignant cries of the Ecce Venit Cum Nubibus track end with the ringing of the bell and act as an introduction to the combative drive and vocal rage of the embittered witch in the sound of the Through the Hate song, in which again clean male vocals soften the enraged female screaming of the vocal part. But the singing lady shows different vocal shades in the run-up to the final fury, which she will then further diversify and mysteriously develops in the sound of the Realize final composition.