March 28, 2022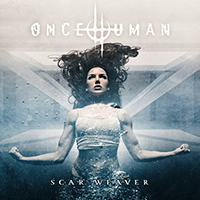 The music of the Eidolon song rolls in waves of harsh unyieldingness, combining with the vocal harshness of the demonic growling of the singing witch in the embodiment of the musical essence of this musical release. The Deadlock (feat. Robb Flynn) composition combines the main vocals with the recognizable influence of a legendary guest musician, combining in a single mesmerizing musical flow of vocal unity with musical passages. The title track of the Once Human - Scar Weaver album weaves the covers of the musical lace of the main motif into the introduction, enchanting with the twilight solemnity and dark grandeur of the musical narrative.
The musical melodicism of the Bottom Feeder song brings an appeal for liberation and variety in the sound of the vocal part, combined with a progressive transformation of the musical passages. The Where the Bones Lie composition, after a brief preparation, brings the vocal part to the forefront of the musical image, anticipating vocal transformations and echoes of forgotten fairy tales in the solemn procession of the Erasure epic saga with notes of battle march and celebration of valiant heroes.
Mesmerizing in its musical charm and variety, the Deserted composition complements this artistry with appropriate vocal changes, bringing the vocal part to the forefront of the militant sound of the We Ride musical thriller. The Cold Arrival persistent and meaningful vocals speech is complemented by sparkling covers of melodic charm in a solemn anthemic procession, prefacing the album's tight and confident Only in Death ending with meaningful reflections.