March 12, 2020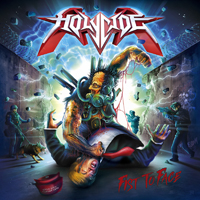 Radio Intrump tunings, beating sounds, announcers broadcasting about attacks and other obscure intrigues are the introduction to the title track of the Holycide - Fist to Face album, exploding with a furious stream of unbridled drive, combining vocal anger and musical fury in a single musical passage.
Continuing musical fury, Empty Cyber Life in some way brings shades of style legends, combining them in a harsh mid-tempo march, sometimes exploding with the fury of a fast-moving drive. The Vultures vocals escalate rage and power with the support of the supporters of the supporters. But in instrumental bridges, a guitar solo brings a whirlwind of symphonic charm. Nuclear Fallout complements the power and fury of the unrestrained bulk of the rhythmic pulsation of the introduction, the vocals complement the musical passages with unbridled swiftness, then the music varies rhythmically structure very artistically.
The drum roll builds the basis for the Trapped by the Crappy Trap musical narrative that weaves in a single burst the mystical echoes of twilight legends and the epic dusk of ancient prophecies, lifting vocal phrases to the top of the musical image ... such a union of styles of your humble servant was incredibly carried away! The mid-tempo Mentality Packs march envelops the dominant vocal appeal with a cover of musical dusk, captivating vocal reflections to follow the indicated musical signs of the path.
A furious drive in combination with a fast-paced pressure combines vocal rage and musical power in a single stream of the The Aftermath (Recipients of Death cover) musical composition. Starting with the pulsating solo bass of guitar, Napalm Sweet Napalm then envelops the severe pulsation with a whirlwind of guitar riffs, complementing the vocal harsh with growling fragments. The Innocent Hate vocal part constantly refers to the opinion of colleagues, musical passages support vocal phrases in their thoughts, weaving together power, anger and drive, but introducing mesmerizing notes of melody into the musical narrative. Fake Libertarian concludes the album with a rapid stream of musical unrestrainedness, captivating the deadly dance typical of the expected style.