January 24, 2023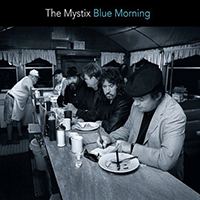 Ornate threads of mysterious artistic playfulness begins the musical narrative of the The Mystix - Blue Morning album, wrapping the vocal phrases of the Yolanda song with a unity of melody and celebration, continuing the musical story with the unhurried lyrics of the Another Kind Of Love ballad, shrouded in a ghostly haze of romantic atmosphere, combining sensuality with notes of vague sadness, which is dispelled by the musical and vocals perseverance of the I'm A Love You composition.
But again returning to the romantic atmosphere, the Change In Jane ballad raises the unity of music and vocals feelings above ordinary experiences, continuing the festive mood with memories of the New Orleans city, singing its unique atmosphere in the appropriate stylistic and genre musical pattern, preceding the inspired inspiration and sublime sound of the title track of the Blue Morning album.
The impatient and hurried sound of the musical passages is intertwined in the exciting sound of the Rattled song, preceding the unhurried pace of the Which Side Of Heartache brooding ballad, bringing vocal reflections to the foreground, continuing with a pensive detachment in the sound of the Without You composition, discarding sadness and dispelling anxiety for the sake of a peaceful and fascinating charm of the unhurried procession of the Hi-Line final composition along a soothing musical path.