June 04, 2022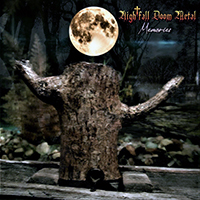 Musical reverie envelops the muted and distant vocal reflections with an impenetrable fog, creating the covers of the Only composition, weaving the mysterious lace of the introduction of the Nightfall Doom Metal - Memories album and suggesting the further development of its mysterious musical essence. The Old Man from the Wild West musical fairy tale evokes a symphonic atmosphere of narration, complementing the echoes of the legends of the wild west with shades of fascinating fairy tales and combining muted male vocals and the gentle charm of a singing lady in the vocals part.
Mysterious vocals reflections slowly march, but then the sound of the Cursed Be composition complements the vocal narrative with mysterious poems read by an invisible witch, the sound of bad weather and a twilight symphony. Vocals phrases are brought to the forefront of the Oranges Seller musical story, complementing its narrative with background chorales and a musical atmosphere full of hope and inspiration, creating a fascinating background to vocal phrases with sparkling veils.
The organ symphony is combined with spiritual chorales in the full of twilight mystery Hands of Memory spiritual symphony, complementing the background chorales with demonic and mysterious vocal phrases of the foreground, anticipating the gloomy fog of the God Infamous composition that completes the musical narrative of the album, combining mystery with the mesmerizing unpredictability of a deep musical atmosphere.