February 08, 2021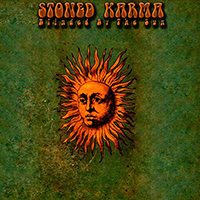 The Dark Karma track begins the musical narration of the Stoned Karma - Blinded By The Sun album with brooding romance, slowly pulsing the rhythm of the guitar, intertwining its notes with the appeals of guitar solos. The further musical canvas bewitches with sublime thoughtfulness. The mesmerizing echoes of oriental legends bring an artistic ambiance to the Tokyo musical suite, impressively and intriguingly spinning a guitar solo in unexpected dances, while retaining the inspiration of a leisurely musical narrative.
But the musical variations move into the world of mystical fairy tales, enveloping the Tales Of The Damned twilight mystery of the tales of warlocks and outcast sorcerers, expelled from the human world into the gloomy realms. In an obscure mystery, the Wolf Moon continues its unhurried procession through the impenetrable haze, shrouded in the ghostly traces of invisible spirits. But the guitar solo brings melodic insights into these themed twilight.
Beginning with a mysterious twilight with an obscure variety, the Rosanella sometimes soars in a whirlwind of emotional impatience, but returns to unhurried mystery again, retreating before the confident procession of the Blinded By The Sun title composition, confidently and energetically moving along the path of the main motive, entwined with covers of artistic variations. The Last Light concludes the album with a soothing peace, as if preparing for a long and unobtrusive rest.