August 01, 2018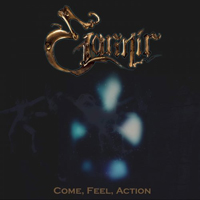 The dark mist wraps the harsh phrases of deep growling with the obscure ghosts, starting the Elarmir - Come, Feel, Action album with a grim burden, but the enchanting female vocals raise The Others sound to the triumph of symphony and sublime charm, bringing to the album the notes of the ageless classics. Then, after a thoughtful respite, the female vocals with an epic batch introduce spicy shades of eastern style, ending with harsh phrases of demonic growling, alternating with it in a magical variety.
Poetic acoustics with lyrical phrases of female vocals calling in an enchanted lace of illusory dance precede a majestic Chimera legend, rolling in an enchanted musical canvas with a magical saga. Keeping the lyrical melody more then the David Bowie cover - Blackstar sounds like great tribute to the legendary artist (by the way, a great video is filmed for this song!), complicated rhythmic structure, filling it with lace of progressive music moves captivating unexpected changes and preserving the charm of a soft and seductive female vocals. Turning to unforgettable legends - it's just a sin not to turn to the classical music that gave birth to an incredible variety of branches and genres! The charming Four Seasons of My Life plexus of classical musical tunes, furious metal drive and enchanting vocal phrases carries away to the plane of unexpected fantasies and incredible imaginary discoveries. Again paying homage to the legends, Ghost of Perdition, Opeth cover somewhat takes away the imagination in a somewhat different space than the perception of the original. Music becomes more nervous and rhythmic, the party of pure vocals is fairytale and dreamy - it is worth noting that at times this interpretation gives the composition differently than the original. Returning to the classics and raising the sound to the majestic pedestal of the enchanting hymn, Metal Sarabande enchants and sweeps aside doubts, combining melody and drive together. No, this suite should be listened to countless times!
Concluding the unity of rock, metal and classics Sonata K1 completes the album, fusing together such contrasting genres. Perhaps nothing else can combine the perception of such different musical ideas as unification in the single artwork unite.