November 09, 2017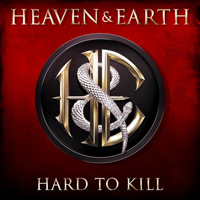 The title track without any delay begins the Heaven & Earth - Hard To Killalbum, sweeping a vivid sound in combination of vocal and instrumental ideas. Often the album should only listen to the title track - any group risks doing so, but - not in this case.
Thoughtful throbbing keyboards and furious guitar riffs continues this triumph of the brightest hard rock - that tells to Walk Away any another thoughts! Don't agree with that statement - get out of here! Walk away!
Interesting, echoing in the competition for the main role in the Till It's Over main motive, guitar and keyboard passages are hovering around vocal phrases. The spirit of the prairie and the steppes of the wild west brings its own trend to composition Bleed Me Dry, however, without losing the spirit of freedom and the desire for a bright will. The pulsating notes of the blues The Game Has Changed brings us back to the appropriate local customs. Wrapping an even more comprehensive atmosphere of universal worship, Anthem requires attention to every sound of their music. Clearly, rhythmically and unrestrainedly call to the chorus of its adepts.
Typical for American rock motifs, similar, for sure, in a many British bands are collecting quite an interesting composition Monster for everyone's attention.
No, well, there is no ubiquitous drive there, L.A. Blues calmness, meditation and perception of what was done and what is will comes further.
Short preparation - and unrestrained instrumental and vocal Hellfire delights, propagandizing more and more interesting instrumental views. Pulsating Beautiful Monsters motives brings the spirit of several other styles, perhaps sludge and stoner rock music. Gently, thoughtfully and following the main role of vocal phrases.
Thoughtful, rhythmic composition Bad Man completes the album, with florid reflections perhaps creating an image of a sophisticated ballad, exalting vocal phrases at the forefront of its musical image.