May 05, 2018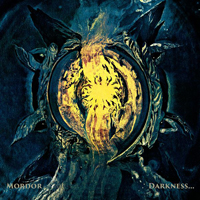 Slowly, visibly, and meaningfully, Darkness Falls begins the Mordor(POL) - ...Darkness album in a twilight haze, in which key-calls are sparkling, whispering vocal thoughts and musical trends are in no hurry to manifest a true guise. Vocal begins its part in a thoughtful whisper, pure vocal precedes the anger and rage of rage. Vocal complements its reflections with emotional screams, anticipating the transformation of the composition into a rolling march. In the middle, mysterious key notes on a pulsating background precede an obscure mystery, indicating the path to further development of the composition. But in the final segment, the composition orders the sound, concentrating on repeating the name.
The mysterious L.U.C.I.F.E.R. introduction intrigues with rare notes, like glistening stars, then transforming these reflections into a wave of dark drive. Rejecting haste, develops his narrative in a significant march, then taking away the instrumental passages retaining the rhythmic structure is carried away in a fast race, but the vocals again and again enclose the narrative in tight frames and indestructible fetters.
Sadness and melancholy is embodied in the Melancholy title, preserving the melodic structure, sometimes carried away in a fast race. Vocal appeals to emotions and emotions, which can not be brought back unreal, or even impossible at all. The main motive does not leave the dominant position, vocal phrases try to find peace again and again, in the instrumental part the guitar solo introduces incredible melody, rejecting sadness and sadness, but the vocals complement the limits of despair.
Slowly, confidently and stiffly, the Eleven main motive manifests itself in the introduction, then acquiring more and more new shades. Vocal does not rush to supplement this exciting musical canvas, waiting for a tight and tough march. In instrumental bridges, cosmic rays pierce the sound, before them the vocal confession spreads meditative reflections.
Continuing throbbing sadness, Incalculable Sadness complements the music with incredibly painful despair, not allowing swaying sadness and grief. But the nervous vocals give the music stream the desire to throw off detachment, taking it away from the disgraced fetters.
The album ends with a quintessence of peace, thoughtfully and unhurriedly enveloping the Dark Room with waves of the introduction, then supplementing the viscidity with vocal and instrumental nuances.